Quality
K.V.Enterprise, insists upon unmatched quality and excellent customers services at most competitive prices a tradition of the group and strategy for the future. As our factory has been installed with latest and ultra modern automatic manufacture BRASS PRECISION COMPONENTS strictly to providing material to INTERNATIONAL STANDARDS.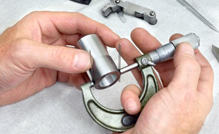 Our Quality Control team continuously monitors the products and users requirement right from the productions stage up to the final dispatch.
Our Commitment to quality is evident from the facts that we manufacture the products in accordance with the relevant international standard and have the necessary product approvals.
In response to the Customers specific design and drawings we accept the requirements and goods are supplied accordingly.
Our extensive experience allows us to offer a technical support services, from Design advice through to Testing and Commissioning of the Product. Due to strict quality control procedures our customers are ensured that their requirements are met accurately and consistently.
We are always at services of our valued customers to their satisfaction at most economical and lowest possible rates.
Measuring Instruments
Sr. No.
Measuring Instruments
Nos.
01
Micro Meter
10
02
Digital Micro Meter
01
03
Blade Micro Meter
01
04
Pitch Micro Meter
01
06
Dial Caliper
08
07
Digital Dial Caliper
01
08
Dial Gauge
05
09
Profile Projector 50X
01
10
Angle Gauge
04
11
Filler Gauge
02